Tuesday, February 8, 2011
Last week I received an e-mail from Tiffani from
House of Belonging.
Every week she hosts the meme Word Women Wednesday's. She challenged us in the e-mail to create art using words about a day of our lives. I've never participated in this meme but this challenge intrigued me. I started with a blank slate and started typing words and placing them in different fonts and different type sizes. There was no rhyme or reason. Just words. Words of how I see myself in a day. Words of how I expect the world sees me. Words of who I am in the world.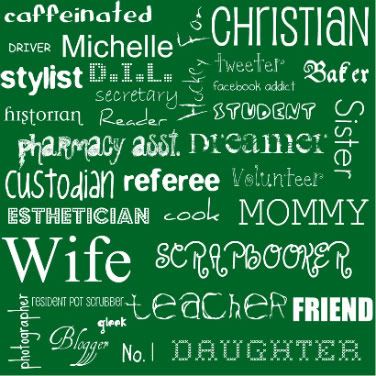 After I completed the challenge I was excited. I loved the work that I completed. I loved how it looked. I laughed at some of the words I would use to describe me and my day. However, the more I thought of this the more I heard Him telling me that this is how I see myself. This is how the world sees me. But this isn't how He sees me.
Since, then, you have been raised with Christ, set your hearts on things above, where Christ is, seated at the right hand of God. Set your minds on things above, not on earthly things. (Colossians 3:1-2 NIV)
It's easy to focus on things about ourselves.
It's so easy to pay attention to how the world sees us. It's easy to believe the lies instead of the truth. We each have been raised, redeemed, set free on the cross. Yet we continue to look around. We continue to try to "conform to the world." Mom, wife, sister, daughter, resident pot scrubber....this is the world view. This is also the lie. Because we aren't only these things, we are so much more.
But Moses said to God, "

Who

am

I

that

I

should go to Pharaoh and bring the

I

sraelites out of Egypt?" Exodus 3:11 NIV
Then King David went

i

n and sat before the LORD, and he said: "

Who

am

I

, Sovereign LORD, and what

i

s my family, that you have brought me this far?

2 Samuel 7:18 NIV
Who am I? This is a question both Moses and David asked God. This is the eternal question we all ask. Who am I? Am I really only how the world views me. Am I really only how I view myself? Then I hear His answer to the eternal question.
I am His. He created me. He bought and paid for me with the ultimate sacrifice. Why?
For God so loved the world that He gave His one and only Son, that whoever believes in him shall not perish but have eternal life.

John 3:16 NIV
He loved me, just because I am His. Not because of who I am; what I do or do not do. Just because I am His. The world may tell me things about myself, but at the end of the day there is only one truth that I need to remember: I am
iFellowship
at Seeds of Faith;
Alberta, Canada
I'm a 39 year old (oh yeah I'm telling you my age) Stay at Home mom. A former Bad Girl now reformed sinner, I'm married to my Y2K guy and raising 3 great children from God. Proudly Canadian, however, missing the West Coast, I currently live in the prairies watching the farmers fields produce as I learn how God produces the fruits in me.
View my complete profile

Facebook Badge

Prairie History