Monday, August 30, 2010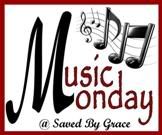 Next month I am joining in on
CJ Carleton's
on line study of "
A Fresh Brewed Life
" by
Nicole Johnson
. I know, a study involving coffee. She had me at brewed. If you are looking for a study you should check this one out. CJ is a Canadian Christian author and speaker and has a heart for mentoring young women and encouraging others to become mentors. I did a webinar with her earlier this year about mentoring and enjoyed it thoroughly.
This morning I read the first chapter of "A Fresh Brewed Life"(I'm writing this Sunday night). It was about surrendering everything to God. All our dreams, our hopes, our desires, our hurts, our pain, our.... And not just neat and tidy, but honestly, truthfully and messy. This is something I struggle with. I was not raised as a Christian, but in the world and I still struggle with wanting to have complete control. How can I control my life if I've surrendered it over to someone else.? So, I surrender certain portions of my life over to God and let Him control those areas while I "control" the rest.
I can just hear Dr. Phil asking me "How's that working for you?" I can tell you, it doesn't. Surrendering only part of me leads me away from God in all aspects of my life and into chaos. We are told in Job 22:21 to "submit to God and be at peace with him; in this way prosperity will come to you. " Submitting/surrendering is to yield oneself to another's authority or power. God tells us when we do this, we will not only be at peace, but that we will prosper. Prosper in our knowledge, love and faith in Him. If I want the full gift that Jesus died on a cross and suffered all the indignities for, then I MUST surrender to Him not tomorrow, but NOW.

If you are struggling with this now, ask God to help you to let go of everything that is keeping you from Him and embrace all that He is waiting to give you if only you would ask Him. I know I am.
I chose the hymn "I Surrender All", not just because of the theme of surrendering, but also, because Nicole Johnson in this chapter encouraged us all to look at hymns and reflect on their words. I love the old hymns and think that we should sing them more.

I Surrender All
J.W. Van Deventer

All to Jesus I surrender;

all to him I freely give;

I will ever love and trust him, in his presence daily live.
Refrain: I surrender all, I surrender all, all to thee, my blessed Savior, I surrender all.
All to Jesus I surrender;

humbly at his feet I bow, worldly pleasures all forsaken;

take me, Jesus, take me now.

(Refrain)
All to Jesus I surrender;
make me, Savior, wholly thine;

fill me with thy love and power;

truly know that thou art mine.

(Refrain)
All to Jesus I surrender;

Lord, I give myself to thee;

fill me with thy love and power;
let thy blessing fall on me.

(Refrain)
All to Jesus I surrender;
now I feel the sacred flame.

O the joy of full salvation!
Glory, glory, to his name!

(Refrain)

Alberta, Canada
I'm a 39 year old (oh yeah I'm telling you my age) Stay at Home mom. A former Bad Girl now reformed sinner, I'm married to my Y2K guy and raising 3 great children from God. Proudly Canadian, however, missing the West Coast, I currently live in the prairies watching the farmers fields produce as I learn how God produces the fruits in me.
View my complete profile

Facebook Badge

Prairie History