Monday, November 1, 2010
I know I haven't written a Martha Mondays for the whole month in October. I just thought that before I started tell you what I do that I had better start doing it! :P This week I'm not only going to do Martha 's Monday, but Music Monday as well with
Shawntele
.
A month ago, as I was just starting to think up ideas for Martha Mondays, I was listening to my favourite show on CBC Radio2,
Vinyl Tap
with Randy Bachman . For my American friends, CBC is not quite like PBS, but not quite like the BBC either, though it is publicly funded. On his show each week he has a theme and plays music that goes to that theme. I listen to this as I clean up after dinner and get the kids ready for the week. That week is was playing original songs and the response songs that followed them (ie. It's My Party and then the response song was "It's Judy's Turn to Cry.) The one that made me laugh was Queen of the House by Judy Miller which of course was the response song to King of the Road.
When I listened to the words I realized that she was singing many of our songs. Of course, mine would most often start like "up everyday at 5:15 am!" It got me thinking how important it is to have a clean up song. Cinderella did; Snow White did; the Beast's servants did; the best was Giselle's in Enchanted, although I do question her choice of helpers. I always have music playing when I'm cleaning. It gets me jazzed up and in a happy place when I work. Sometimes it's ABBA, sometimes it's my favourite praise CD. Lately, it's been
When God Fearing Women Get the Blues
, by Martina McBride.
I think the choice of a cleaning song has to be inspirational or something that gets you moving. Can you really clean the toilets if you're listening to depressing music? I say the livelier the better. If you know the words that helps as you can sing at the top of your voice when dusting or doing the dishes. I sometimes dance around. Get the kids involved. Then work will actually become fun and a time of bonding. My daughter and I have danced while cleaning her room to her Mini Bops cd (that's a whole other blog).
This week, I'm sharing the original song that inspired this blog. I think I'll keep it as the Martha Monday's theme. What do you think?
Queen of the House - Judy Miller
Up every day at six
bacon and eggs to fix
Four kids from one to four
pretty soon there'll be one more

I got old floors to wax and scrub
and there's a dirty old ring in the tub
I'll get a maid someday
but till then I'm queen of the house

No time to fix my hair
need a new dress to wear
Old clothes will have to do
cause the kids all need new shoes

I got bridge club each Tuesday night
he goes out with the boys and gets tight
But when the evenin's through
he comes a home to the queen of the house

I know the milkman the iceman
they come every day
They give me tips on the horses to play
And when I got the time to spare I sit
and wish that I'd picked a rich millionare

I sing up every day at six
bacon and eggs to fix
Four kids from one to four
pretty soon there'll be one more
Oh by Syndays I'm mighty glad
we send the kids to his Mom and Dad
It's the day that makes me glad
I'm queen of the house

Up every day at six bacon and eggs to fix
Four kids from one to four
pretty soon there'll be one morez
Oh by Syndays I'm mighty glad...
Let me know what your favourite housekeeping song is and share it with Shawntele at
Saved by Grace
.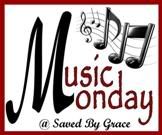 Alberta, Canada
I'm a 39 year old (oh yeah I'm telling you my age) Stay at Home mom. A former Bad Girl now reformed sinner, I'm married to my Y2K guy and raising 3 great children from God. Proudly Canadian, however, missing the West Coast, I currently live in the prairies watching the farmers fields produce as I learn how God produces the fruits in me.
View my complete profile

Facebook Badge

Prairie History