Thursday, January 27, 2011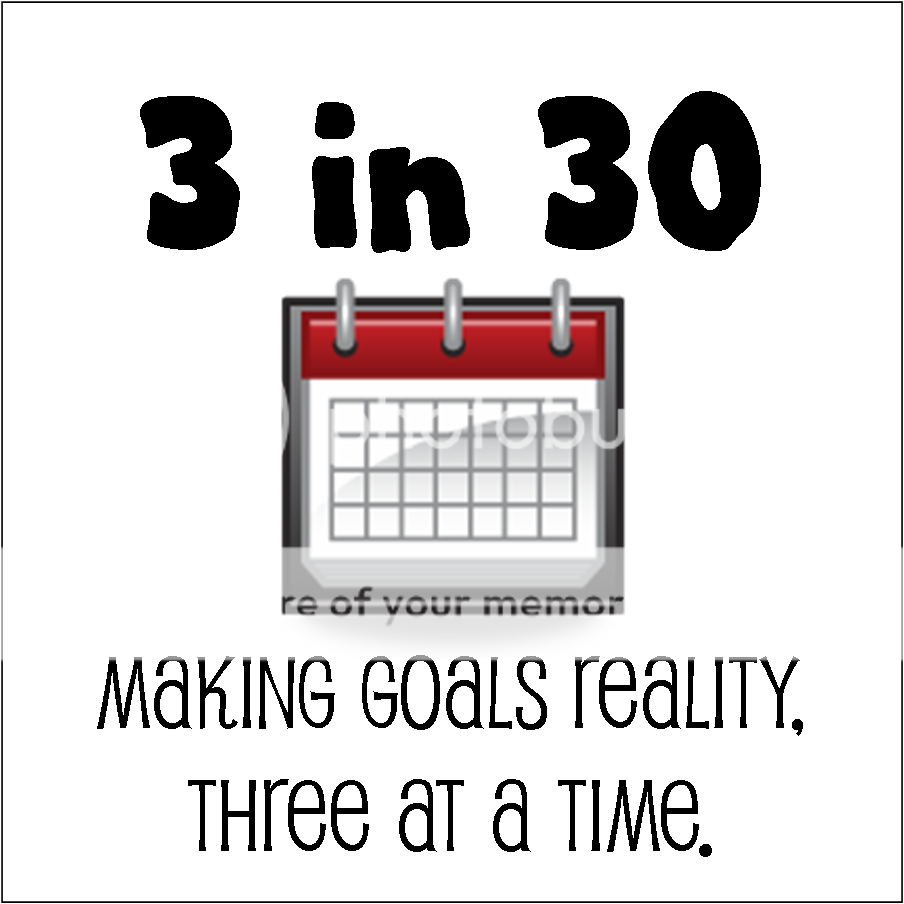 I'm sitting here on Thursday afternoon waiting for my daughter to get home from school, so she can tidy the room I organized (goal #3). I've just finished working out on the treadmill (Goal #2) and after writing this I'm planning on doing my daily reading for the
Bible in 90 Days Challenge
(Goal #1). I started the 3 in 30 to work on things that I been wanting to do, but not making them resolutions and thus dragging me down when I don't do them. I wanted these things to become habits. They say if you do something for 12 days it becomes a habit. I don't think I've ever done anything that I planned to do (ok, laundry doesn't count) for more than 12 days.
Since purchasing the treadmill a year ago, it has mostly sat in my laundry room all alone and unused. Oh, it was used as a clothes dryer or laundry sorter, but it wasn't used as it was supposed to be used. Participating in the 3 in 30 has forced me to find a time to work out daily. Something I have always wanted to do. I found that walking the treadmill once the little guy goes for a nap, worked great. I've mostly kept it up. There were a few times where I didn't do it as we were out, however, I then decided to work out on a Saturday morning as Saturday's around here are pretty lazy. Just last week I heard that adults are supposed to work out for 30 minutes a day/5 days a week. That was my original goal and I've done it. As well, I have a habit. It has cut down on my phone time, but I've caught up on my reading (ok, audiobook listening). I've also found that I've managed to lose some weight and have, for the most part, kept it off (don't ask about the cookie dough day).
I've kept up with my daily reading for the Bible in 90 Days. I'm still struggling to find a time to fit it in, but I have been keeping up. I did fall behind last weekend, but caught up quickly. I now have a Bible on both floors of the house available so that when I catch some time I do some reading. This has helped. As well, on a typical Thursday morning the middleman is in preschool, I've been doing catch up or reading ahead (except for today, thanks to a field trip). I've come to enjoy these quiet Thursday mornings with my Bible.
As I wrote last week, Nicole's room was organized and I'm still struggling to have her keep it clean. I'm annoyed by the constant badgering, but from talking to my friends they have the same battle.
I'm enjoying doing the 3in30. After thinking about them, I think my goals for February will be:
1. No Yelling for 28 days (more information on that next week);




2. Scrapbook 1 hour a week - actually have a reason to have all the stuff; and




3. Organize Kitchen Cupboards - they are a mess.
I can't wait to see how everyone else did this month. If the goals they started, have become habits.
Alberta, Canada
I'm a 39 year old (oh yeah I'm telling you my age) Stay at Home mom. A former Bad Girl now reformed sinner, I'm married to my Y2K guy and raising 3 great children from God. Proudly Canadian, however, missing the West Coast, I currently live in the prairies watching the farmers fields produce as I learn how God produces the fruits in me.
View my complete profile

Facebook Badge

Prairie History