Friday, January 14, 2011
These last few weeks when I have been able to read your lovely blogs there seems to be a theme where many of you have expressed your pain over freindships lost or the lack thereof. This has just broken my heart for many of you. During a recent Babes' session with Beth Moore, she spoke about the circles of relationships we all have. The two I am going to focus on today are 3 and 1.
Beth (I hope that I can call her that, she seem like a lady who wouldn't mind), spoke about Jesus' 3 - Peter, James and John. They were the 3 that went with him to the Transfiguration and Getheseme. They were his confidents, his support, his possee.
I have this group of 3 in my life. Well actually, a group of 4 lovely ladies who I meet with each week - My Babes. The 5 of us may never have actually gotten together on our own, but God had plans for us. We met each other originally as neighbours, community coordinators, through play groups and through other acquaintances. When I first moved into the community 3 years ago, I did not know any of these ladies. They have now become my Sisters.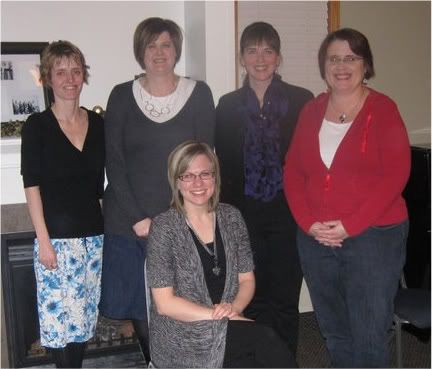 When I think of each of them, I actually think of them in the family dynamic. Tracy is our older sister with the amazing wardrobe that you just want to raid. She also has such an amazing love of God and His wisdom and quiet and gentle spirit pour out of her. Andrea is the next oldest, even though she is younger than me. She is the the smart one. She has a love of knowledge and encourages each of us in our studies and our lives. She is often the first person I think of when I need prayer or support or need to talk to someone. Pat and I are the mischievous twins. We are the clowns. We really are alike in more ways then we probably want to admit. Extremely competitive (ok, probably more on my part, I have to beat her score on Vegas Stakes), we have each other's back through everything that is thrown at us. Then there is the little sister, Cheri. I don't just think of her as that because she's the smallest. Cheri reminds me of Beth in Little Woman. You may think she's weak, but there is a strength that permeates through her. We all want to protect her, but have to allow her to face the world with us standing back and supporting her.
Now don't think this relationship came overnight. It took time to grow. It took patience. It took some breakdowns. It actually survived a split of our group, as we originally had 7 of us. It took prayer. It was made through studying the Father's word, the place all relationships should start.
That leads me to 1. This is the relationship we have with the Father. This should be our priority. If it's not, our other relationships will fall apart. We need to focus on this relationship through studying the word and praying, If we don't take time with the God who created us in His image and give Him all the honour, worship, praise and love that is His rightfully, how can we expect our other relationships to be nurtured and grow?
If you find yourself in a time where you do not have a close friendship where you have someone who is able to lift you up regularly through the word and prayer, be patient. God knows just who He wants to place in your family and when the time is right He will bring you your own Babes.
Come share you're Randomness with us today. I can't wait to see what you have all been up to this week.
Alberta, Canada
I'm a 39 year old (oh yeah I'm telling you my age) Stay at Home mom. A former Bad Girl now reformed sinner, I'm married to my Y2K guy and raising 3 great children from God. Proudly Canadian, however, missing the West Coast, I currently live in the prairies watching the farmers fields produce as I learn how God produces the fruits in me.
View my complete profile

Facebook Badge

Prairie History