Thursday, January 20, 2011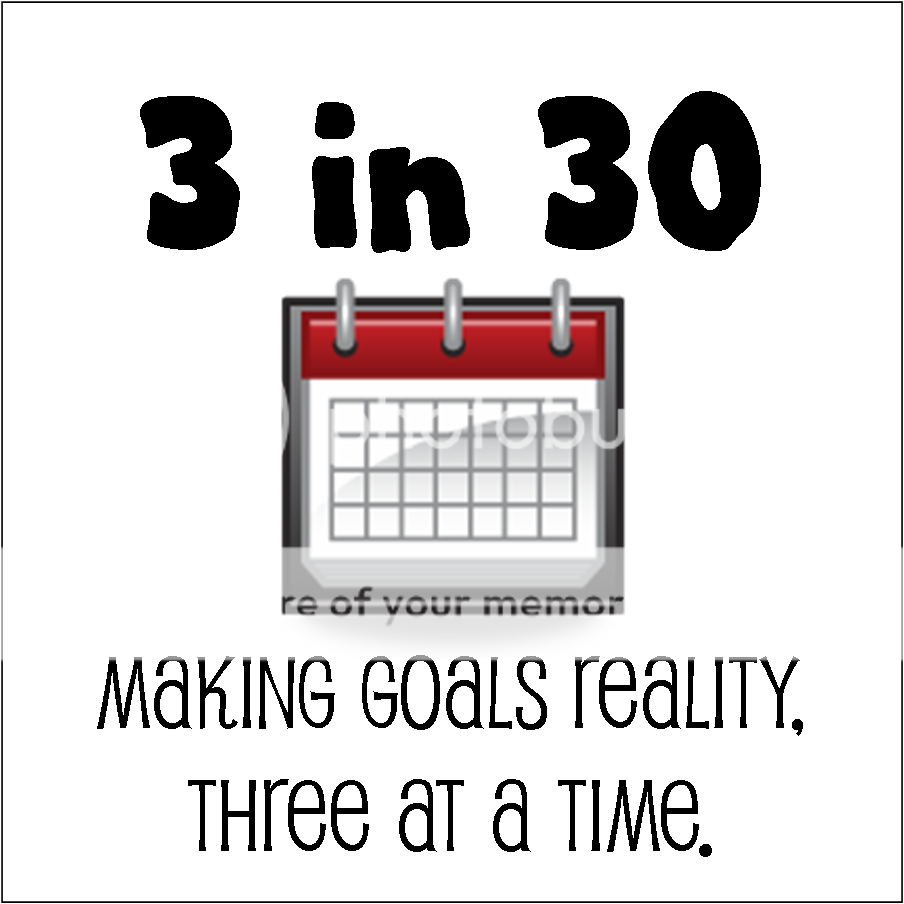 I was going to do a blog today where I answered questions from you, my bloggy sisters, in the
spirit of Ephphatha
. However, I'll admit that this week I've been a bit busy with a sick little one and appointments for Thomas. Today I am combining two blog entries into one, because I can, focusing on my 3 in 30 goals. I promise that I will do the aforementioned post next week. If anyone has any questions for me let me know and I will answer them next week.
Last week
during the 3 in 30 check in I wrote about my struggles with keeping up with my reading of the
Bible in 90 Days
. I've kept up with the daily reading. In fact, I'm still one day ahead and hoping to get a few extra days in this weekend. With winter break coming up in a few weeks (Can you imagine that we not only get Christmas break and spring break, but our school board gives us winter break.) I know that I'll probably get behind as we will be going out a bit more than usual that week.
I've kept up on my 30 minutes of daily exercise on my treadmill. Today, I actually almost passed. It was so cold here all I wanted to do was wrap myself in a blanket with a cup of tea and a few goods books. I admit that in taking an hour to read the Bible, I've gotten behind on my reading. But I have discovered audio books which I have plugged into my iPod and listen to on the treadmill. I'm currently reading
Cleopatra's Daughter
and have
Catching Fire
waiting in my overdrive dock.
I completed my third goal this week. I organized Nicole's room. I cleaned and pulled out a large garbage bag of junk! I do have one box to go through, but mostly for scrapbooking purposes. The box is nicely organized on the top shelf of her closet. I have also placed a
door knob cover
on her door so that her little brothers stay out and I don't have clean her room before she comes home everyday. It also saves me from hearing that she didn't get it messy. I think I've finally outsmarted her. Now if I could only get her to tidy her room every morning before school without the whining.
I can tell you that Nicole is my biggest cheerleader in the 3 in 30 goals. I mark
Ever Grateful memo board
from Day Spring with my goals and I mark down when I've completed a daily goal or the goal altogether. She has noticed when I haven't marked something and lets me know if I'm behind.
The verse that has helped me this week is:
I can do all things through Christ who strengthens me. Phillipians 4:13 NKJV
This verse has helped me to keep walking on the treadmill, even when my feet hurt; to sit down and read my bible, even through the divisions of Israel; and kept me focused on the big picture of life. Without God, I wouldn't be where I am or who I am.
Alberta, Canada
I'm a 39 year old (oh yeah I'm telling you my age) Stay at Home mom. A former Bad Girl now reformed sinner, I'm married to my Y2K guy and raising 3 great children from God. Proudly Canadian, however, missing the West Coast, I currently live in the prairies watching the farmers fields produce as I learn how God produces the fruits in me.
View my complete profile

Facebook Badge

Prairie History