Friday, December 31, 2010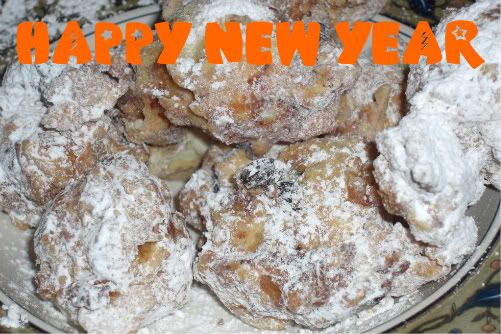 What started as having a quiet New Year has become a large family gathering. It all started when I was pregnant with Nicole. We didn't know what to do, but wanted to do something, so we decided to spend New Year's Eve with my in laws eating
Olliebollen
. I think I ate a whole bowl by myself and did not make any apologies for it. We spent Nicole's first New Years at her Oma and Opa's and again it was pretty quiet.
The third year, however, was the year the tradition started that at least 4/8 of my husband's siblings would be at my in laws every New Years. It became a large fun family gathering (except the year the deep fryer wouldn't keep the heat). The kids play in the basement, while the adults talk, play games and watch the end of year hockey game which usually includes our favourite team, the
Edmonton Oilers
. This always leads to some good rivalries.
This year we get to attend and I'm excited to see everyone and catch up. I'm also excited to for the kids to see their Oma and Opa. They adore their grandparents and I know it is highly reciprocated. I also am looking forward to the Olliebollen as my husband has a rule that we can only eat it on New Years Eve (there have been times that I've cheated!).
I'm looking forward to 2011 and all that it has in store for all of us. I don't have resolutions for year, but I will be working on goals through the
3 in 30
project. So January I will be working on:
1. Working out 30 minutes/day at least 5 times a week;
2. Read my bible daily in the Bible in 90 Days Challenge;
3. Clean out and organize Nicole's Room - Don't ask - this is something I've been avoiding for months.
I hope that everyone of you have a great New Year's Eve and spend it with the ones you love. I would love to hear what you're resolutions are so that I can pray for you this year and encourage you each in what you would like to accomplish in the New Year.
Alberta, Canada
I'm a 39 year old (oh yeah I'm telling you my age) Stay at Home mom. A former Bad Girl now reformed sinner, I'm married to my Y2K guy and raising 3 great children from God. Proudly Canadian, however, missing the West Coast, I currently live in the prairies watching the farmers fields produce as I learn how God produces the fruits in me.
View my complete profile

Facebook Badge

Prairie History